PARTY FEET // Christmas Style Advice
/
December 14th, 2012
/
There are currently 0 comments
By Guest Blogger // Lois from "Bunnipunch"
// With so many events going on at Christmas and New Year, sometimes our feet seem to aim for something that isn't ideal for our outing. With that in mind, here is my little guide to fab footwear from Spy Love buy and where and when you should be wearing them.
Family Meal
We all know that moment when we want to be fashionable but you're worried your Granny will turn her nose up at the sight of a stacked heel. So why not try some plain wedges, Christmas style flats or even a peep toe for some sophistication that even your Granny will be impressed with.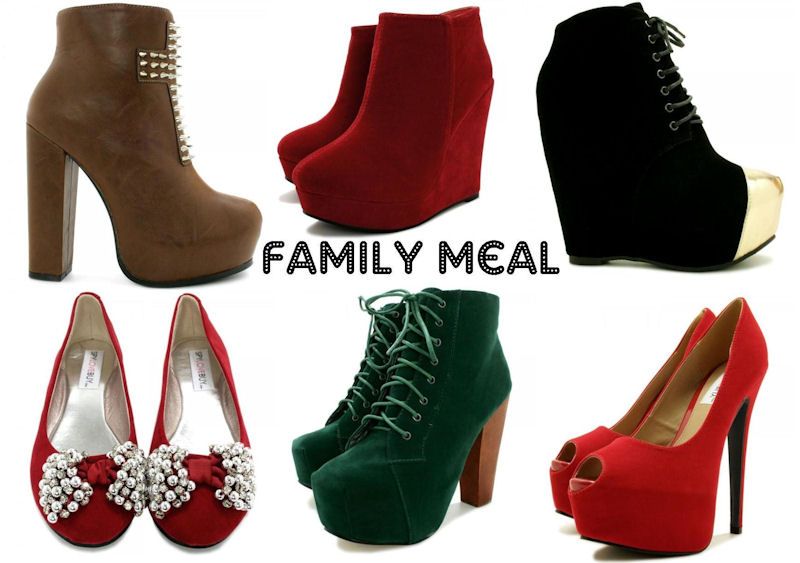 Clubbing with the Girls
Hold onto your shoes and clutches girls as its Party time at Christmas but really comfort does need to factor when you will be on your feet all night dancing. Stacked heels and wedges are the perfect cheat when it comes to fake height and durability. With key details such as spikes, glitter gems and studding, these shoes will be a knock out on your night out and will stop you from knocking yourself out too.
Down the Pub
It's a problem we all have where we like to get a little too dressed up for the pub and end up sticking out like a sore thumb. So why not try studding and details to bring plain boots and wedges to life. As you will probably be sitting around, height can be played with and just think that these shoes can be worn with a nice dress or jeans depending on how casual you want to dress.