FIVE PARTY DRESSES // One pair of shoes
/
December 4th, 2012
/
There are currently 0 comments
By Guest Blogger // Samantha from "When Flowers Fall"
// With Christmas sneaking up on us fast, so is the party season; the perfect opportunity to splurge on a new dress and a fancy pair of shoes.
I've chosen five of my favourite dresses on the high street at the moment, along with my most favourite pair of shoes on Spy Love Buy.
So let's start with the shoes. The Mallory stiletto heel is the perfect addition to any party dress, and for only £29.95, you can't go wrong. The simple colour and peep toe make it a timeless classic, yet the platform and stunning high heel gives it a little more oomph. No matter what you are wearing, I feel you could dress up or dress down these shoes. They would literally go with any party outfit!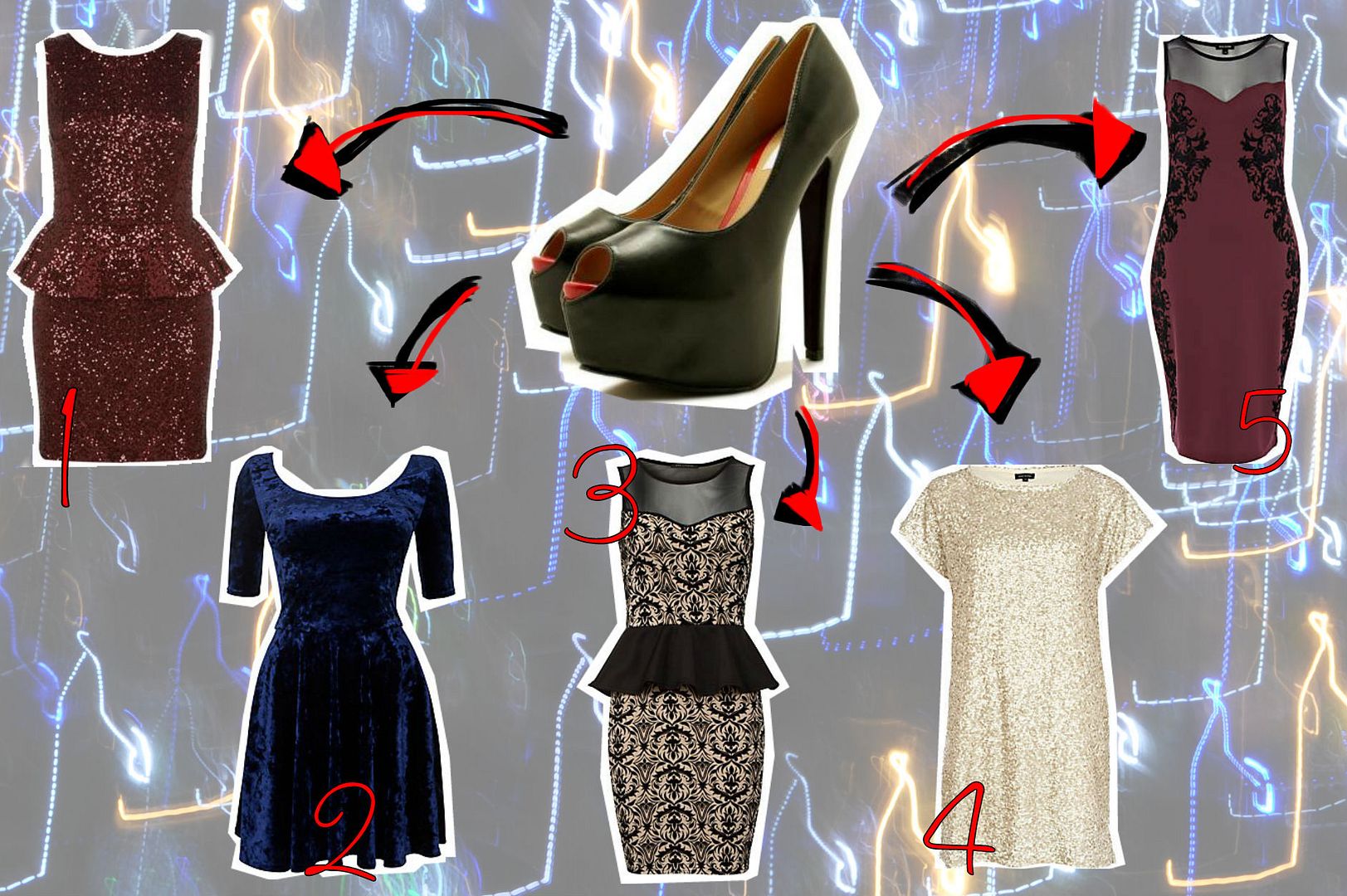 Now for the dresses!
1. Sequin Peplum Dress – £65.00 – Topshop
With peplums still being a huge trend, this dress is on point. The figure hugging shape can create a silhouette to die for and the sequins are the most Christmassy of colours. I absolutely adore the high neck front and low V back. So flattering!
2. Navy Velvet Skater Dress – £16.99 – New Look
When I think of the holiday period, I always think of velvet.
This simple blue skater dress may lack sparkly adornments, but I feel the texture of the material does all of the talking. If you do feel it needs a little dressing up, then the world is your oyster with jewellery and accessories!
3. Misumi Baroque Peplum Dress – £24.99 – New Look
Another top pick from New Look, is this amazing baroque print dress. With baroque being another huge trend this season, along with that and the peplum, this dress ticks all of the boxes.
The mesh top gives the dress another classy twist, giving the illusion of a sweetheart neckline.
4. Gold Sequin T-shirt Dress – £45.00 – River Island
If you're not one for showing off your figure, this dress is perfect for you.
The T-Shirt style will hide any lumps and bumps you may feel uncomfortable about, yet the sequins will not leave you feeling plain and drab.
If you are going for effortless, then this dress is for you! Throw on the shoes, grab a clutch and go!
5. Purple Flocked Baroque Print Midi Dress – £40.00 – River Island
My final dress has to be my ultimate favourite. Minus the peplum and sequins, it has a little of each previous dress. Again, the red colour screams Christmas, the baroque flocked print gives a hint of extravagance and texture, and the mesh panelled top creates a sophisticated neckline. Perfect!
So there you have it, five perfect dresses for the party season, and one super chic pair of shoes that will pair up with any of them. Just add a few accessories and go!
I hope you have found this useful and have a fabulous party!! …I know I will!